Case
COACH—SELLING HANDBAGS OVERSEAS
Coach, Inc. is an American luxury leather goods company primarily known for ladies' handbags. The company started in 1941 as a family-run workshop based in a Manhattan loft. Now greatly expanded, the company aspires to maintain high standards for materials and craftsmanship. In 2008, faced with a severe economic slowdown in its core U.S. market, Coach decided to expand its drive into Asia. A key market in this expansion drive is China. According to Ernst & Young, China bought more than $2 billion worth of upscale products in 2008. This figure could rise to $11.5 billion by 2015. By the end of 2006, the country boasted 345,000 U.S. dollar millionaires, one third of whom were women. Coach expects China will make up over 4 percent of its sales by 2013 as it expands into a hundred cities. It also announced plans to acquire its own retail businesses in Greater China from current distributor ImagineX to boost its market presence. Coach plans to increase the number of stores there from 25 in 2008 to 80 by 2013. The stores will include flagship and stand-alone stores, as well as factory outlets.
Coach hopes to be able to replicate in China what it did in Japan (see Table) by increasing its market share from just 3 percent in 2008 (compared to 30 percent for Louis Vuitton) to 10 percent by 2013. Franfort explained how Coach could grab shares from its European competitors in Japan: ''Many Japanese women told us they would rather spend 60,000 yen ($578) for a Coach bag and spend the other 60,000 yen that they would save by not buying a European luxury brand and use it to go to Thailand.'' Coach especially appeals to women under age 35. Older Japanese women prefer carrying European luxury brands as a status symbol.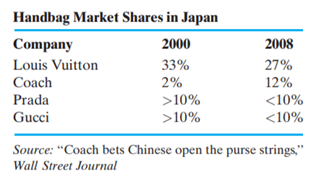 CEO Lew Frankfort states that Coach's competitive advantage over other luxury leather goods companies such as Louis Vuitton is that ''We offer a well-made and stylish product . . . at less than half the price point of our European competitors.''. 50 Coach handbags retail for $1,100, although many models are much cheaper. To keep the brand more accessible than its European luxury rival brands, Coach makes its product in lower-cost countries while sourcing its raw materials from high-quality mills and tanneries. As a result, Coach's labor costs are a fraction of its European competitors' costs.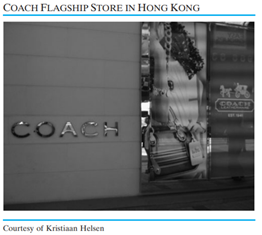 Coach's primary focus is on the female consumer because ''she tends to be brand-loyal, will go shopping whether the stock market declines or not, and if she has a bad day at the office she may buy herself a Coach bag, where a man would have a double-scotch.''
Describing the difference between the Chinese and U.S. consumer, Frankfort said: ''In China, there's a luxury consumer that represents perhaps 0.05 percent of the population— very small but with enormous purchasing power. That's not our primary target. Our target is the emerging middle class who have gone to university and are now getting 30 to 40 percent [pay] increases a year …These women are trading up and investing in plasma TVs and laptop computers and Coach bags. They are looking for ways to broaden their life and Coach is one way . . . . There are some consumers who are extremely wealthy, and hopefully our limited-edition product will attract them, but they are not our primary thrust.''51 The next frontier would be India, though for the time being that market is on the back burner because of infrastructure problems.
DISCUSSION QUESTIONS
1. Will Coach be able to replicate its Japan success story in China? Why was the firm successful in Japan?
2. Reflect on Coach's targeting strategy. What are the alternatives? Coach decided to focus on the emerging middle class—do you agree?
3. Around the time that Coach announced its Asia expansion drive the global economy entered into a deep recession. To what extent would the recession affect Coach's strategy in Asia (primarily Japan and China)? Would Coach need to revisit its plans? If so how?